PRIVILEGE AND POWER APPEAL
Millions of people are denied a fair chance to enjoy a healthy life because privileged groups and powerful institutions put profit and political interests before people's wellbeing. Let's get to the root of the problem. Donate today and help to challenge unfair privilege and unhealthy power dynamics.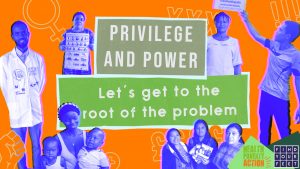 Together with community leaders, health workers and activists across the world, Health Poverty Action and Find Your Feet are exposing and challenging the inequality that denies so many the chance to enjoy a healthy life; from Indigenous women in Guatemala to farmers in India.
So we can deal with the exploitation that leaves communities in poverty, the sexism that keeps women from fulfilling their potential and the prejudice that denies people their human rights.
Please give to our spring appeal and stand with people across the world as they feed their families, support their children and protect their rights.
DONATE NOW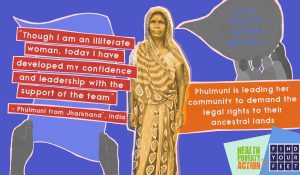 Phulmuni's Story
Phulmuni lives in a small village in eastern India with her husband and two sons. The family owns a small plot of agricultural land and, like most in their community, depends mainly on farming for their living.
When government officials suddenly blocked the villagers' access to their ancestral forest lands, which they had always used to grow food and graze cattle, Phulmuni sprang into action. With support from Find Your Feet she organised people in her village, and neighbouring communities, to submit a legal claim for rights to their ancestral lands.
Phulmuni tells us she is overwhelmed by the praise and respect she has been receiving in her community.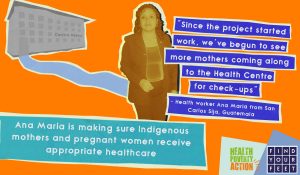 Ana Maria's Story
Ana Maria works as a District Head for the Ministry of Health in Guatemala. She is responsible for coordinating and planning health services across her district for the benefit of patients, families and the wider community.
Ana Maria has been working with Health Poverty Action to train health workers to engage with families from the Indigenous Maya community in a culturally appropriate way. Indigenous Maya women had widely reported discriminatory and demeaning treatment from health workers before, during and after childbirth.
"I've learned new things as well: such as how we can…improve communication between rural communities and health service providers. Health Poverty Action has helped train [health workers] in their roles and responsibilities, such as developing local plans to ensure that in an emergency a pregnant woman has a way to get to a health centre."
Please give whatever you can today and help to challenge unfair privilege and abuse of power.
DONATE NOW
What are we doing to support communities?
We are working with communities to address inequality and improve people's lives. Together with activists and community leaders, we expose exploitative trade relations that extract wealth from the Global South at the expense of local people and economies. We support disadvantaged ethnic communities as they fight discrimination and demand fair treatment. And we stand with women as they challenge and overcome gender-based oppression and marginalisation.
By giving to our spring appeal you are standing with people in Africa, Asia and Latin America as they get to the root of poverty and find practical ways to build healthier, richer lives.
• £22 could pay for one radio broadcast to raise awareness of health and social issues in the community
• £50 could cover the daily cost for a health worker to attend essential training
• £150 could pay for a workshop on building community awareness around discrimination for 100 community workers
• £300 could pay for an awareness-raising roadshow in a rural community