Happy Mums, Happy Tums UK Aid Match appeal
Knowledge makes mothers powerful, and babies healthier
Wherever you live in the world, pregnancy and early childhood can be a difficult time for parents. Health Poverty Action's UK Aid Match appeal aims to support and empower mothers in rural Sierra Leone to improve their health and their children's health. Together, we will train community health workers and equip health clinics in rural Sierra Leone to give mums the nutritional information and support they need to give their children the best start in life.
Donate To Double Your Gift
What will the Happy Mums, Happy Tums appeal do?
One of the biggest challenges mums face in rural Sierra Leone is accessing a balanced and nutritious diet to give their babies and young children the best start in life. The Happy Mums, Happy Tums project in rural Sierra Leone aims to make long-term changes to nutrition and health within rural communities, reaching over 6,000 women and children. We'll support community-led initiatives which provide sustainable sources of nutritious food for mums, their children and the community.
Health Poverty Action will be: 
Identifying and referring malnourished children and pregnant women to health services, especially those in households living with a disability, whilst working alongside over one hundred community health workers.
Helping local communities take advantage of the most nutritious locally grown food, for example, by providing breeding pairs of chickens or goats for a sustainable food source. 
Improving access to healthcare services, for example, by providing community health workers with a bicycle so they can reach the most remote villages and support them to attend their local health clinic.
Supporting long-term sustainable changes which can be maintained by the local community, for example, training community health workers and improving access options to health clinics after the project has ended. 
Where will my money go?
£6 could provide a family with a breeding pair of chickens for a continuous supply of eggs and chicks to share with other vulnerable families.
£18 could help to provide 10 undernourished children with access to the emergency food needed to improve their health.
£54 could provide one community health worker with the training and resources needed to promote good nutrition to new mums.
£188 could pay a month's salary for a social worker who ensures the most vulnerable and marginalised community members get the support they need.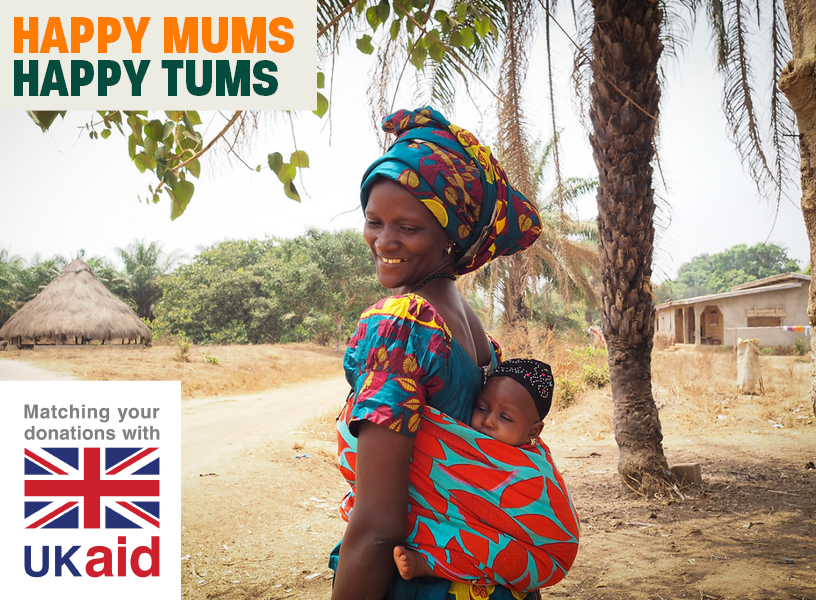 How does UK Aid Match work?
Double the impact you can make by giving to Health Poverty Action's 'Happy Mums, Happy Tums' campaign before 31st December 2019 and the UK government will double your donation. Any regular donations set up within the appeal window will be matched up to three months, and any additional amount donated on top of existing regular donations will also be matched. Match funding from the UK government will go directly to the Happy Mums, Happy Tums project to support the health and nutrition of mums and young children in rural Sierra Leone. Your donation will support Health Poverty Action's work where it's needed most.
Donate To Double Your Gift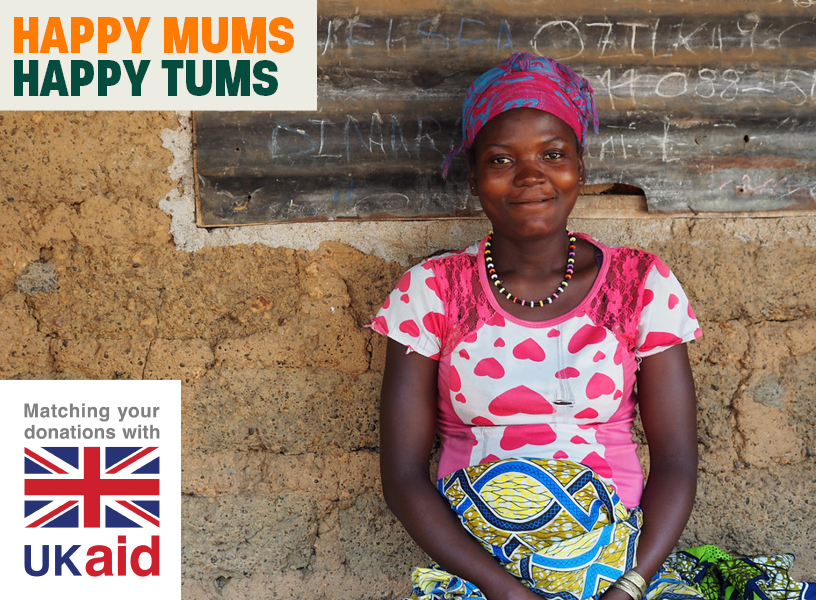 How do I make sure my donation is being matched?
For every £1 you give to Health Poverty Action between the 1st October 2019 until midnight on the 31st December 2019, the UK government will give £1 directly towards the Happy Mums, Happy Tums project, up to £2 million. This includes up to three monthly gifts set up during this time frame, plus money raised from events that take place during the campaign.
Donate To Double Your Gift