Want healthier drug policies? Join us on June 26!
The recent landmark decision by Canada takes them even closer to a regulated cannabis market, following in the footsteps of Uruguay and US states like California and Colorado
As this wave of reform sweeps the world, it's time to demand the UK steps up. That is why we are joining with our friends at Transform Drug Policy for a mass lobby of parliament on June 26.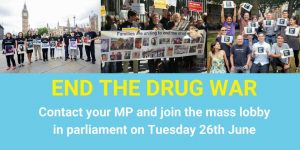 June 26 is the United Nations International Day against Drug Abuse and Illicit Trafficking. Instead of using this day for prohibition, as is custom, we want to reclaim it and use it to demand healthier drug policies.
It is time to make the case that effective regulation could protect vulnerable groups, support public health and generate taxes and savings to fund health, harm reduction and other public services.
This is not just important for people in the UK, but across the world. From breeding violence and undermining democracy, destroying the livelihoods of crop producers, and preventing access to essential medicines, the so-called war on drugs damages the lives of people and communities everywhere.
Join us on June 26 at Westminster, from 12-4.30pm, to meet your MP and demand the UK steps up and plays its role in ending this failed war. We have a small amount of funds to subsidise travel to Westminster; if you may need to apply for this, please let us know.
To join just do two things:
Contact Tess at 

[email protected]

 or 0207 840 3777 who will give you all the information you need.
Contact your MP to ask them to meet you on June 26. If you don't know who your MP is, simply click on the button below to find out, and then use our email template to contact them. Please BCC Tess into your email to help us keep track of which MPs have been contacted.
For more background information please see our report on cannabis and our briefing on six steps to a healthier drug policy.
Read about our six steps to a healthier drug policy
Details on how to contact your MP
You can find your MP using the button below –
Email template:
Dear < your MP's name >,
Please meet me at Parliament between 12-4.30pm on the afternoon of 26th June to discuss the impact our current drugs laws are having on people in the UK and overseas.
My name is <your name>, and I live in your constituency. I am writing to you because I am concerned about the negative impacts of the UK's prohibition-based approach to drugs. I will be visiting Parliament on the 26th June to raise awareness of this issue and would like to meet you while I am there.
Effective drug policy should improve public health, reduce crime, promote international development and protect young and vulnerable people.
Overwhelming evidence shows that current policy fails to achieve this.
The harrowing stories of the families who campaign with 'Anyone's Child: Families for Safer Drug Control' show that the lives of young people and the communities we live in throughout the UK are being damaged by our current criminal justice-led approach to drugs. These brave families are uniting to push for drug policy reform to prevent others from suffering as they have.
The failed war on drugs also affects people throughout the world.
In the UK, drug-related deaths are at record levels, our prisons are in crisis and drugs are getting stronger. Almost one in three drug overdose deaths in Europe are recorded in the UK, which surely we can all agree is unacceptable. We have ample evidence from other countries where alternative policies are delivering much better outcomes, and shows that they save lives.
I am urging you, as my Member of Parliament, to come and meet me on the 26th June to discuss what can be done about this pressing issue, so that we can find a better way to keep our children safe. Please do let me know what time would be convenient to meet.
I look forward to seeing you on the 26th June.
Yours sincerely,
<your name and full address>